'The editor thought there was a spelling mistake' – Rahul Dravid recalls a lesson he learned during school cricket
Dravid recalled an incident from his school days when he hit a century and he was recognized by a different name .
Updated - Jul 26, 2022 11:16 am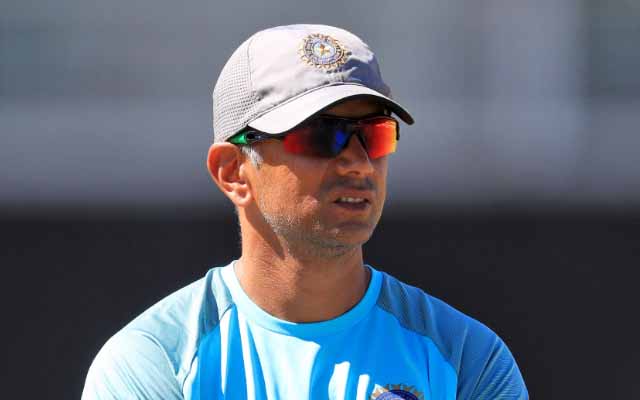 Follow us on Telegram
Rahul Dravid, the head coach of the Indian cricket team, who is also regarded as one of the greatest cricketers to have ever represented the nation, has previously talked about how life lessons can be learned from the game of cricket. Dravid, who has 48 centuries to his name in international cricket, opened up about how his first century came in school cricket and recalled how it taught him a lesson that he would carry with him for the rest of his life.
Dravid is currently with the Indian side in the West Indies, where the Men in Blue are facing the Men in Maroon for three ODIs followed by five T20Is. India won the first two games of the ODI series, which were nail-biting thrillers. Having sealed the series with a game to spare, Dravid would hope for the Shikhar Dhawan-led side to white-wash the home team.
During the podcast 'In the Zone', hosted by Olympic gold medalist Abhinav Bindra, Dravid recalled a comical event in which his name was misspelled as "David" in the press. This realization made him think that, despite scoring a century, he wasn't very well-known at the time.
I think it was a good lesson for me: Rahul Dravid
"The editor obviously thought that there was a spelling mistake and there could be no one as Dravid. So, it had to be David, right?," Dravid said recalling the incident.
"Because it's a lot more common name. So, I think it was a good lesson for me as well to realize that while I might be really happy and excited about scoring a 100 in school cricket but I am still not well known. And people don't even know my name. They can't even trust my name to be right and have to change it," Dravid added.
But the kid made sure that for the rest of his life, everyone in India as well as every publication would remember his name. Rahul Dravid and Bindra had previous encounters before this one.  At a book launch a few years back, Dravid discussed how Bindra's Beijing 2008 gold medal encouraged him to push himself while he was on the "wrong side of his 30s" and going through a hard time.
"Abhinav's achievement emboldened me to give it that last push with my own career to dig deep again and to do whatever it took, as difficult as it might seem. His no-shortcuts, no-excuses approach is something we can all aspire for, in whatever tasks big or small that we undertake," he had said at the Book Launch.
Follow us on Google News